Now a Bulgarian saint, the founding person, inhabitant of the holy place, Ivan of Rila, was a hermit. It gradually expanded, in the 1335 a defensive tower was added and also a small church. The tower's name, Hrelyo's tower, commemorates the local ruler who provided the funding, Hrelyo. The tower, the oldest building that remains preserved within the entire monastery complex, has on its top the Transfiguration Chapel. Inside, precious frescoes dating from the 14th century are its asset.
In the time since its founding, the Rila Monastery has also been the center of enlightenment. Eminent Bulgarians contributed to the spreading of knowledge and the maintaining of Bulgarian national identity. The Rila monastery has been the center for preserving precious ancient manuscripts and printed books dating from the centuries since its thriving, the fourteenth century period, a collection of coins, church items, icons, etc.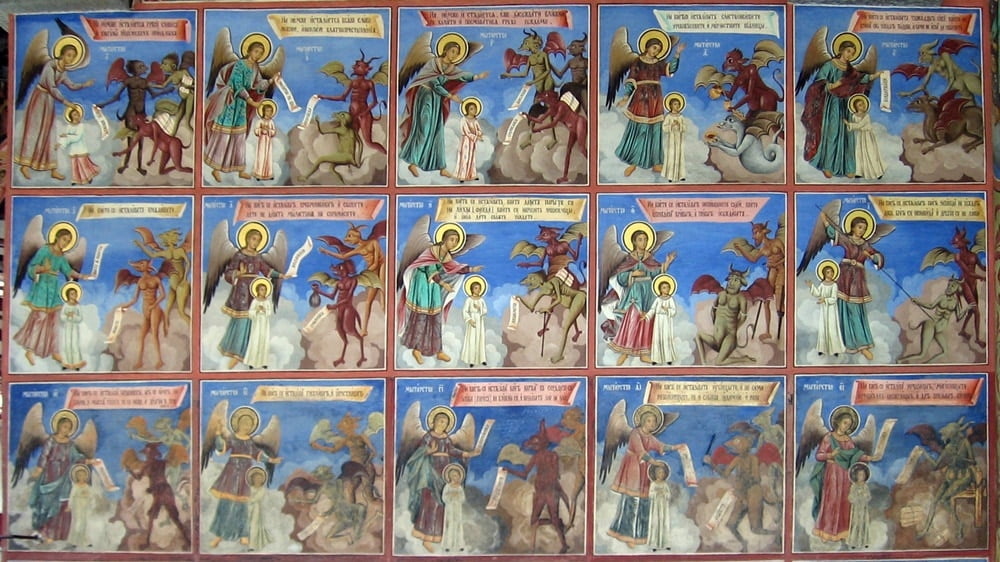 In the vicinity, several churches are located. The Presentation of the Virgin church, the cemetery church, stands south of the Rila monastery complex. There is an ossuary and an old carved iconostasis. The building, the murals, and the adjacent building date from the eighteenth century.
The Assumption of Saint Ivan of Rila church is to the east, dating from the eighteenth century. The church complex comprises the local cave where Saint Ivan lived. It is built on the place where the Saint's grave is believed to have been. The Saint Lucas church, also dating from the eighteenth century, stands in the place of an ancient chapel. It is in two storeys, and the west wall exhibits building type characteristics of the medieval period. The Protection of the Mother of God church, north of Saint Lucas church, was built in the eighteenth century where another church stood, and the murals date to the same time.
The Rila monastery, Bulgaria complex ground was where eminent Bulgarians found their resting place. The graves of the former tsar, Boris III, Neofit of Rila, Hrelyo, and also the British James Bourchier lie on its grounds. Rila Monastery has an individual settlement statute.
Visit Rila monastery in Bulgaria as part of your Balkan adventure.
Please contact me directly with your requirements and you will receive a free, non obligatory price estimate by email.
INQUIRY

Send me your requirements

»
PLANNING

We adjust dates and places

»
QUOTE

I create your custom tour

»
BOOKING

We confirm the booking.