Traditional Bulgarian Taste
Then come the plethora of vegetables used, a feature common with Mediterranean cuisine. Hotchpotch is one of the most scrumptious dishes, especially when all the vegetables one can think of are baked together to yield a symphony of mouth-watering unison.
Vegetable salads are staples in all seasons, and Shopska salad is the universal favorite: just cucumbers, tomatoes, onion and cheese, and you get a perfect appetizer, replete with healthy substances too.
Speaking of vegetables, who would resist the vegetable paste called lyutenitsa: baked peppers, tomatoes, eggplants, carrots, sometimes with more vegetables added. The jars of lyutenitsa are everywhere, begging to be tasted with the paste spread on a slice of bread.
Bulgarian Banitsa
Visitors to Bulgaria who explore its dishes notice the abundance of pastries; the most common is banitsa, pastry prepared mostly with cheese, but this phyllo dough can also be prepared with nettle, spinach, pumpkin, etc. filling. Mekitsas, dough pieces fried and sprinkled with icing sugar, are also high in demand.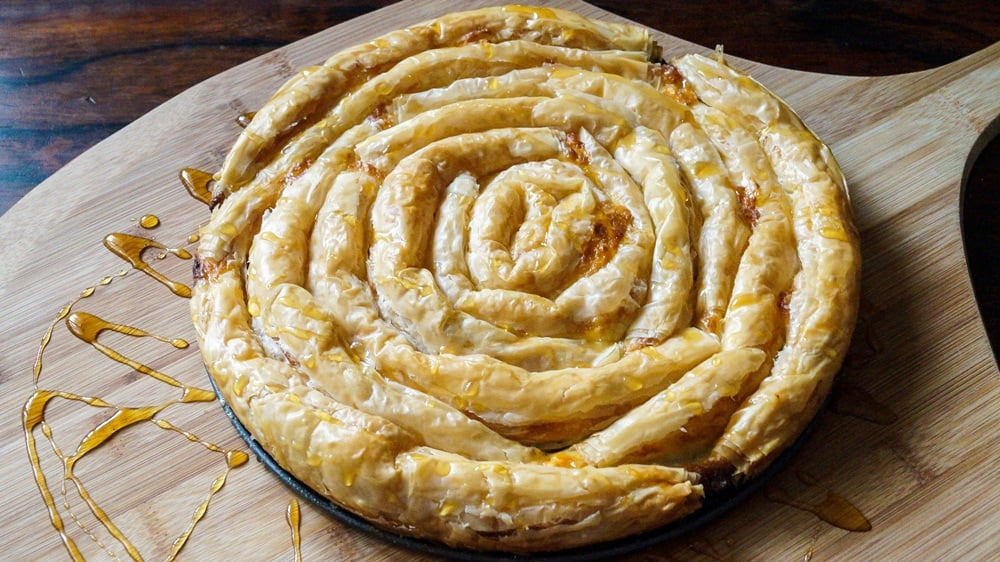 Bulgarian Yogurt
Bulgarian yoghurt is ubiquitous, eaten with pastry, added to dishes to complement the delight with a new twist, or strained into thick substance, mixed with cucumbers, fresh or pickled, is a favorite salad type called "Snezhanka" (Snow White).
Wherever Bulgarians think of festive dinner, the round loaves called pogacha are staples. They are made from yeast dough, with milk or yoghurt, and often with cheese pieces inside. The result is scrumptious and filling as a full-blooded dish, especially with the mixture of spices that is present everywhere too, called "sharena sol" (motley salt, indeed salt with ground pumpkin seeds and different other spices mixed in). Meat dishes feature great meatballs and meatrolls, shashlik from chicken or pork, etc.
Taste the best Bulgarian dishes! Send your requirements now and let me design the best Bulgaria culinary tour for you.
Please contact me directly with your requirements and you will receive a free, non obligatory price estimate by email.
INQUIRY

Send me your requirements

»
PLANNING

We adjust dates and places

»
QUOTE

I create your custom tour

»
BOOKING

We confirm the booking.