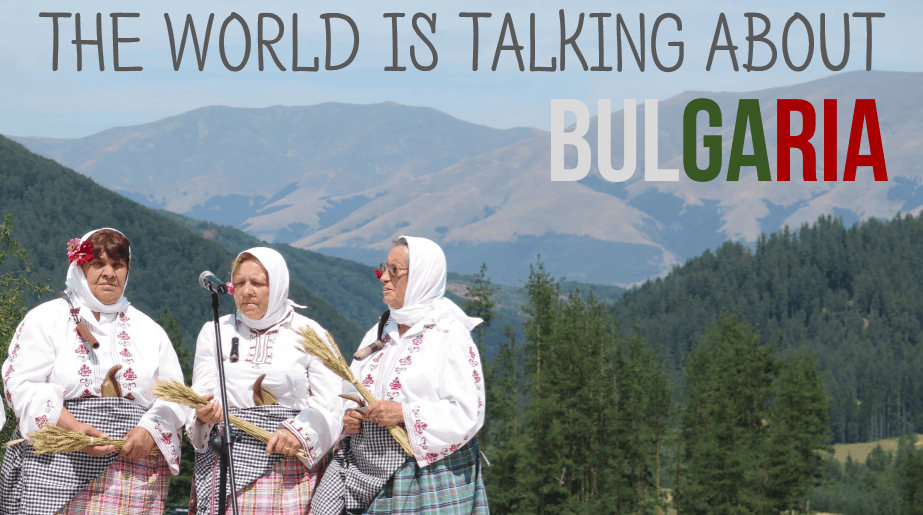 Travel Bloggers from All Over the World are Talking About Bulgaria
You probably heard many stories about Bulgaria, but still don't know why you should visit it. There is a reason! Actually, there are thousands of reasons.
Here you will find some links of articles and quotes of the best news sites, online travel magazines and travel bloggers talking about Bulgaria. What the most experienced travelers in the world say about Bulgaria, which are the the places they liked the most and the things they consider as "unique" and the most important – why they fall in love with this part of the world. Check their blogs and let them inspire you to plan your next trip to Bulgaria and the Balkans.
 Travel Bloggers Talk about Bulgaria
Travel bloggers from all around the world share their experience after visiting Bulgaria. Here you will find some of their most inspiring quotes and thoughts about Bulgaria and the Balkans.
I freakin' love Bulgaria. As I think back over my three weeks in the country, I struggle to remember any negative experiences at all. My only regret is that I couldn't stay longer and explore. BrenontheRoad.com
"Bulgaria has a little bit of everything for everyone: from its lush mountain scenery in the north and south, to beautiful sandy beaches on the famed Black Sea coast, and some of the oldest history in Europe with archaeological sites dating back to as early as 4900 BC." Eurail.com
"Bulgaria is a classic European nation, with visual and cultural elements derived from a multitude of empires, with history spanning back longer than almost any other nation in Europe. Sofia is a vibrant and modern European capital city. There's a handful of UNESCO-listed towns nestled in between rolling mountains, with much of Bulgaria's stunning nature remaining pure and pristine." Yomadic.com
"In a land trampled by invaders and then occupied by the Soviets, free Bulgaria shines now as a place with a strong bond to the fertile land and majestic mountains." PerceptiveTravel.com
"You see parks and monuments are all over the world, but it's the local people – in this case the friendly people of Sofia – that make our experience of travel a life long lesson of human understanding." YTravelBlog.com
You see parks and monuments are all over the world, but it's the local people – in this case the friendly people of Sofia – that make our experience of travel a life long lesson of human understanding. YTravelBlog.com
"But the reason why I enjoyed Veliko Tarnovo so much wasn't the history, incredible views or beautiful architecture. It was the really decent street art scene, something I'd never have thought of there!" MyWanderlust.com
"Bulgaria is a country that's incredibly rewarding to travel through." Dangerous-business.com
"The country itself is a beautiful country. We fell in love with the mountains and forests and rivers – so much water and so much green. It is a pity that we can't take this home with us!" Ellis Shuman ShumansinBulgaria.com
"So other than all that, and other than driving on the right side of the road, it was relatively easy. I'd still highly recommend a road trip around Bulgaria. The scenery was so absolutely riveting that it would seem a crime to me just to take a bus." TravelwithBender.com
In addition, the fact that the Bulgarian people are extremely warm and welcoming towards foreigners just increases its attractiveness as a travel destination (speaking of attractiveness, Bulgarians have to be some of the most attractive people on the planet!) WanderingEarl.com
Our favorite part was definitely Veliko Tarnovo. It is a beautiful town and incredibly pleasant to walk around. WhereisShoron.com
"Here we have breathtaking beaches, high and unbelievably beautiful mountains, totally stunning cultural and historical destinations, including 9 UNESCO sites. You should also know that the country is very youngster-friendly destination." – TravellingBuzz.com
"Even though value and affordability are a huge plus for Bulgaria, its charm lays with the rich cultural and historical heritage, gorgeous nature, delicious cuisine and warm Bulgarian hospitality." WanderingEducators.com
"Bulgaria is a strikingly beautiful country and is best explored via road." ThomasCookAirlines.com
"The most amazing place on Earth" –  Adventureflair.com
"Sofia is the most budget friendly EU capital and can easily be done on under $25/day. It ranks in the top 4 of the most impressive, yet affordable cities in Europe." WithLovefromBG.com
Still unknown to many foreign visitors, Bulgaria is actually a green country with four mild, but well discernable seasons and very variable terrain. High mountains, deep gorges, untouched forests, rivers, broad plains, numerous cliffs as well as the sea coast are situated in a relatively small territory making the country diverse and interesting." SpatiaWildLife.com
"If you're looking for a country with absolutely everything then Bulgaria should be on your bucket list. It's oozing with tradition, coastline and ancient cities and to add to its appeal it's incredibly cheap making it a perfect destination for anyone on a budget." GirlabouthteGlobe.com
"I had arrived with extremely low expectations and left eager to explore more of the country. We didn't give ourselves enough time and subsequently were only able to scratch the surface. Bulgaria was a wonderful surprise and the perfect way to finish off our time in Eastern Europe." Neverendingfootsteps.com
"Do keep Sofia and Plovdiv in mind if you are looking for something different, especially in an Eastern European country. Bulgaria will surprise and enchant you in many ways." BenMorais.com
"The Rila Mountains are an inspiration and delight to the Bulgarians, who make up the vast majority of each year's half-million visitors to the park. It is said that every Bulgarian (there are 8 million) visits the Rila Mountains at least twice in his or her lifetime." by Gregory Dicum  TravelandLeisure.com
"Ruse, along with the rest of Bulgaria offers plenty of history, natural wonders and hidden surprises." – Gonomad.com
"The Black sea Coast of Bulgaria has been a budget holiday favorite for decades. Along this stretch of coast is a good cross section of Europe with styling urban cities, cheapo package holiday resorts, old fishing villages and ancient ruins." NomadicNotes.com


Bulgaria in the Top Lists of the Best Sites on the Net:
Lonely Planet:
Lonely Planet's top countries for 2011
Lonely Planet's best value travel destinations for 2014
Lonely Planet's top 10 cities for 2015
CNN:
World's 15 best rivers for travelers
Europe's best winter getaways
Europe's best budget ski resorts
10 great towns, villages and neighborhoods for architecture buffs
7 of Europe's most luxurious ski chalets
The Guairdian – Top 5 budget destinations in Europe
Telegrapf.co.uk – Bulgaria is the best destination for cheap holiday
Daily mail.co.uk – Bansko in Bulgaria comes out the cheapest for a family ski holiday in Europe
Mirror.co.uk – Bulgaria's Black Sea resort of Sozopol is a brilliant bargain break
GoAbroad.com – Top 5 Reasons Why Bulgaria is Europe's Best Kept Secret
Discovery Channel – Discovery Channel Declares Bulgaria Top Tourist Destination in Europe 
SBS – Bulgaria best value European destination
Traveller.com.au – Sofia, Bulgaria named cheapest city for hotel stays in TripAdvisor hotel cost index
USA Today – SOFIA, Bulgaria — In Europe's most affordable capital
Skyscanner.net – 10 of the world's cheapest countries to go to on holiday
Quality Golf Destinations – The Best Golf Destinations – The Best Golf Holidays 
TimeOut – Europe's best beaches
The Wall Street Journal – Bulgaria: A Travel Bargain for Luxury Lovers
Back Packer – 12 reasons your next trip should be to Bulgaria
Venere – 9 Amazing reasons to visit Bulgaria
Bulgarian Travel Bloggers to follow:
Bulgarian travel bloggers sharing there experience and local tips and tricks about travelling around Bulgaria.
AdventureFlair.com
Sunshine.bg (Bulgarian)
TravellingBuzz.com
ShumansinBulgaria.blogspot.com
DrumivDumi.com (Bulgarian)
WithLovefromBG.com
BettyTravels.com
Kukr.com
Kashkaval-Tourist.com
LifeTastingBlog.blogspot.com (Bulgarian)
EatStayLoveBulgaria.com
LivinginBulgaria.eu
WhenWomanTravels.com
ToBulgaria.org
Time2Travel.bg (Bulgarian)
If you think that someone is missing and suppose to be included in the list, just drop me a text in the comments bellow and I'll add a link of his/her blog or travel website in the list.
Share this post with your friends